Hi! This is Yok and I am a Pilates Teacher and Pilates Teacher Trainer at Sana Motion.
Before I started my Pilates profession, I used to work for a service industry, manufacturing and logistic engineering services. My education background was MBA, major in supply chain management from University of La Vern, Los Angeles, California.
One day I had a rear-ended car accident which caused me cervical and thoracic misalignment and also whiplash (the sudden force stretches that tears the muscles and tendons in the neck, WebMD LLC, 2005-2018) for years. Nonetheless, I am thankful for the situation as it brought me to Pilates.
Pilates was one of the rehabilitation programs that my doctors, physiotherapists in Los Angeles advised me to do. So, I decided to try my first pilates session for the first time after a traumatic injury while I was also continuing other treatments. The feedback on my physical and mental state was gradually improving. After the first pilates class, it made me realize that pilates is for everyone; regardless of how your body is conditioned. In addition, Pilates left me in awe since the first day of practice.
In 2012, I moved to Thailand and continue working as a supply chain/ logistic engineering support for 2 years. I was also doing voluntary services for my co-workers by teaching yoga and body movement after working hours. After a year of continuously doing the programs, I received positive feedback from my colleagues in terms of health and wellbeing in general. It was my tuning point that made me realize how much I love being a teacher.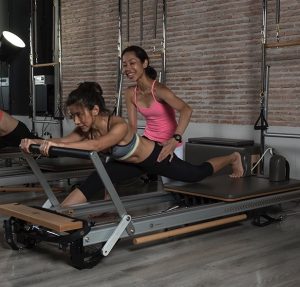 One day, I wrote a letter to the Pilates Station (by Sana Motion) to pursue scholarship from SWISS Pilates Institute and Body Fly Academy.  I met Patricia Duchaussoy who was my first pilates teacher in Thailand as well as a mentor and the studio accepted me as a pilates apprentice. I worked closely with talented pilates intructors who shared their skills and experiences to me since I started my new career path. I also had the opportunity to share my passion with people who come from all walks of life.
To sum up my background; "I used to moved things as I worked for a supply chain/ logistic industry; now I move humans as I am a pilates teacher and I love it!"
————————————————————————————————————————-
พิลาทีสโดยบังเอิญ
สวัสดีคะ ครูชื่อหยกนะคะ สอนพิลาทีสให้กับซาน่า โมชั่นหรือพิลาทีส สเตชั่นมาห้าปี ครูเริ่มจากการเป็นนักเรียนทุนของสถาบันสวิส พิลาทีส และ บอดี้ ฟลาย และมีโอกาสได้ร่วมงานกับคุณแพททริเซีย ซึ่งเป็นครูพิลาทีสคนแรกในเมืองไทยของครูหยก ตลอดจนครูพิลาทีสท่านอื่นๆ ที่ได้ถ่ายทอดประสบการณ์ ความชำนาญให้กับครูหยกตั้งแต่เริ่มก้าวมาสู้การเป็นครูสอนพิลาทีส
ย้อนไปเมื่อประมาณแปดปีที่แล้ว ครูได้ใช้ชีวิตอยุ่ที่เมืองลอส เองเจลลีส ประเทศสหรัฐอเมริกา ครูจบปริญญาโทด้านSupply Chain Management และมีโอกาสได้ทำงานในสาขาที่ตัวเองได้เรียนจบอยู่สักพัก จนกระทั่งครูได้ประสบอุบัติเหตุทางรถยนต์ ซึ่งมีผลทำให้กระดูกคอและกระดูกทรวงอกได้กระแรงกระแทกอย่างเฉียบพลันรุนแรง จึงเป็นผลให้ครูได้รู้จักกับพิลาทีสซึ่งเป็นหนึ่งในโปรแกรมบำบัดและฟื้นฟูสมรรถภาพทางร่างกายโดยอยู่ภายใต้การดูแลของคูณหมอและครูสอนพิลาทีสผู้เชี่ยวชาญคนแรกในชีวิตของครู ด้วยเหตุนี้เองครูหยกถึงได้เรียนรู้ถึงประโยชน์จากการฝึกพิลาทีสอย่างถูกต้องและสม่ำเสมอ จนสามารถทำให้ร่างกายและจิตใจกลับมาสมบูรณ์แข็งแรงขึ้นอีกครั้ง
เมื่อประมาณหกปีที่แล้ว ครูได้ย้ายกลับมาใช้ชีวิตที่เมืองไทยและได้ทำงานให้กับโรงงานแห่งหนึ่งซึ่งตรงกับสายงานที่ตัวเองเรียนจบมา นอกจากงานประจำที่รับผิดชอบ ครูยังอาสาสอนการออกกำลังกายให้กับเพื่อนร่วมงานอยู่ประมาณหนึ่งปี จนทำให้ครูรู้ใจตัวเองว่าเรารักการสอน และรักที่จะถ่ายทอดการเคลื่อนไหวร่างกายให้กับผู้อื่น ซึ่งเราเล็งเห็นประโยชน์และความสำคัญของมัน ตั้งแต่นั้นเป็นต้นมา ครูจึงแบนเข้มชีวิตมาเป็นครูสอนพิลาทีสอย่างเต็มตัว ด้วยความสุขจากการที่ได้ทำในสิ่งที่ตัวเองรัก