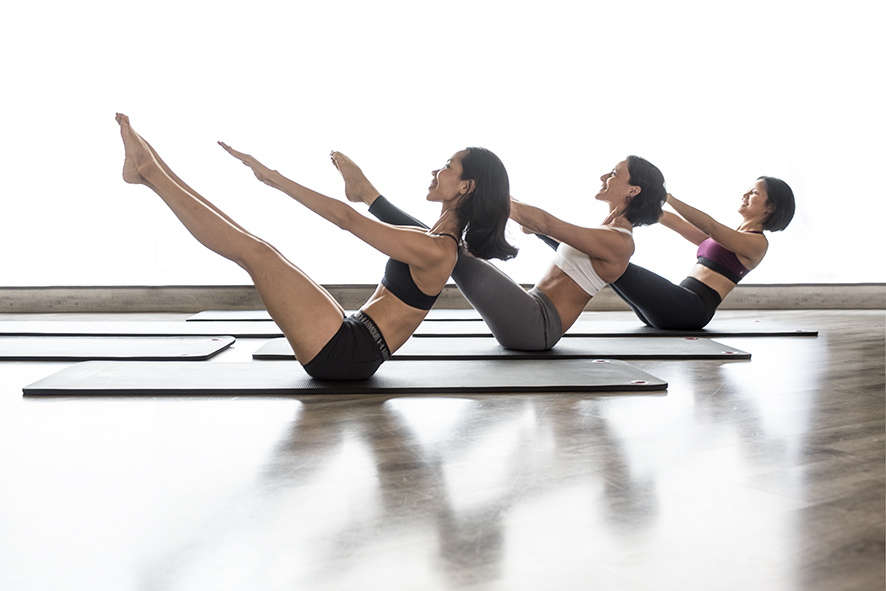 Pilates Matwork is a series of exercises that are done on a mat on the floor.
The attention to the core muscles and the flow of movement is the same as when you do Pilates on the machines.
In Matwork, your own body provides the resistance, working against gravity to build strength and develop flexibility.  Quite often we add some props to the exercises on the mat such as the flex band, swissball or weight balls. As we cannot reduce the strength of gravity, floor exercises can become quite challenging for the core!
Matwork is mostly focusing on strengthening the muscles of the hips, back, abdominals, and glutes or what is known in Pilates as the powerhouse.

The blend of strength and flexibility training improves posture, reduces stress and creates long, lean muscles without bulking up and by practicing that regularly will get your core very fit.
Who is Pilates Matwork for?
Pilates Matwork is for anyone who wants to improve/maintain their current strength and flexibility, athletic performance and recover from an injury or prevent them. Exercises performed in our group mat classes are designed for general population and are great for increasing flexibility and core strength.
Pilates Matwork's Benefits
You will notice:
Improved function of the trunk stabilizing muscles

Improved posture, co-ordination, body awareness and flexibility

Correction of faulty mechanics that underlie recurring sporting and spinal injuries
Leading to:
Reduced pain levels and injury recurrence

Improved ability to perform work/sporting/social activities

With different classes catering for beginner, Intermediate and advanced levels we have a class to suit you.
[hc-hmw snippet="Mat-classes"]