Hello Everyone,
I would like to share with you a beautiful journey of one of my students, Ludovica Ungaretti who is a Dr. / Orthopedic Surgeon by profession however, destiny had a different plan!
Here is her story!
«Four years ago, I left my country, Italy, to follow my partner here in Bangkok.
It was a tough decision but I decided to follow my instinct and my heart, even though I knew that I was leaving a good and stable job in my hospital as an orthopedic surgeon. I did it for five years as a resident after my degree in medicine and then four years as a specialized doctor. During my journey, I have successfully conducted around 1200 surgeries. 
When I reached Bangkok, I realized after 3 months that it was impossible for me to work as a surgeon, because they were asking me to do the exam again in order to fulfill the necessary requirements for the license and also in Thai Language. I eventually gave up and I taught as a science and P.E. teacher in an international school for one year. Then I resigned, because I was not enjoying that kind of job and I decided to finally follow what I always really liked…sports!
I completed the indoor cycling instructor certification and I worked in a studio as a former programming and operations manager as well as an indoor cycling instructor. In addition, I started to practice yoga and Pilates (both new for me) and there à the spark flew! I fell in love with Pilates, because I realized how useful it can be to become lean, strong and flexible at the same time.
I decided to study more about Pilates and I took the Pilates certification at the Swiss Pilates Institute in order to become an instructor. I found the course to be very professional and the techniques and skills that were taught to me by Patricia made me feel that I was on the right track. My knowledge about the human body and its biomechanics, bones, muscles, helped me to go deep into the education about Pilates. I came to the conclusion that Pilates is the perfect method to become more aware of our body and to learn how to control it, whilst working on strength, flexibility, endurance and breathing as well.
Given my medical background and experience, Pilates:
is an alternative form of rehab;
restores the body after surgery;
restores the body before and after pregnancy;
resolves back pain;
addresses office syndrome
………….and so on.
As a surgeon, my mind used to look at surgery as a solution, but actually many issues can be solved with Pilates avoiding surgery or preparing for it or rehabilitating after it. That's why Pilates a Day, keeps the doctor away 😉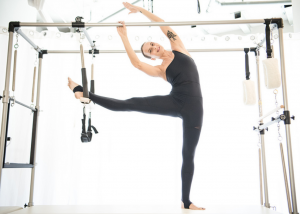 I'm currently an instructor at Sana Motion and I am still learning on the job as much as I can to continuously improve my teaching, especially to gain more experience with special populations and injuries. I am so satisfied when I see my clients get better, feel better, be happy with their body and mind, because don't forget how important it is to be happy with ourselves and being healthy is first element of being happy!»
— Ludovica Ungaretti