Hello Everyone,
Hope you are having a Pil-easant Week!
There may come a time when you reflect on your journey in Pilates and realize how passionate you are to discover more and more about this extraordinary method. Whether it is to lose weight, tone up, re-condition your body or even to rehabilitate, you always TRANSFORM; provided that you do Pilates regularly, correctly as well as applying the correct breathing techniques.
Pilates enthusiasts sign-up for a Pilates teacher training course to either become fully proficient in teaching different levels of Pilates or become fully knowledgeable about the subject for their own interest and physical benefit. In the past couple of years, there has been an increase in the number of Institutes facilitating Pilates Certifications which is why it is becoming extremely difficult to choose.
Before going any further, I recommend you to read my previous blog on how to know if Pilates Teacher Training is right for you. This will determine your inner drive for a Pilates Certification.
https://sanamotion.com/2018/05/08/how-to-know-if-pilates-teacher-training-course-is-right-for-you/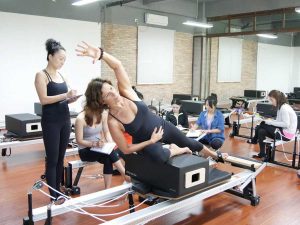 Here are some tips and guidelines on How to Choose your Pilates Teacher Training Course:
Does the Instructor Inspire You?
If possible, attend a Pilates class with the teacher trainer and observe the instructor's teaching style, communication approach and appearance. Engage & Connect with Teacher Trainer in order to truly understand his/hers' journey in Pilates. Does the journey inspire you? Do you want to become like that Instructor one day?
Attend as many Pilates classes as possible till you are sure that the learning style of the Instructor matches your approach to learning and practicing. This is because Pilates courses require a combination of observation, theory as well as practical learning.
If Attending a Pilates class with the teacher trainer is not possible, read the instructor's profile in order to understand his/her journey and experience. If the overall story is highly inspiring; you know that you are half way there to your decision.
Can you commit to the Timeframe of the Entire Course?

It is always best to review the course syllabus to understand the amount of time it will take for you to receive your certification. Although Pilates education is a never ending journey, there will be a timeframe assigned for classroom learning (theory and practical learning), e-learning (for some institutions) as well as final examination (which may or may not include observational learning).
It is also always recommended to add additional time for home learning, i.e., researching and updating on Pilates trends, knowledge, history, Pilates poses…etc.
You will realize the true benefits of your certification when you practice on different bodies regularly over a period of time. Therefore, be prepared to add more time to the assigned timeframe.
My following blog will give you a glimpse of the level of preparations and time required for a Pilates Teacher Trainer Exam.
https://sanamotion.com/2018/10/20/how-to-prepare-for-a-pilates-teacher-exam/
Are you able to Commit to the Cost of the Course?

Pilates courses can be expensive, however, don't get demotivated by this. Always request for payment plan options; express your situation and concerns and there may be ways to crack a good deal!
Scholarship opportunities might be available as well which is why it is so important to research and identify the various options that are workable within your financial means.
Does The Course Structure & Syllabus align to your Goals?

Determine the objectives and goals you want from the Pilates Course.
Do you want to build your existing skills and knowledge for your own benefit?
Do you want to teach and coach others?
What timeframes have you set for achieving the goals? Is the course timeframe workable according to your expectations?
Do you Fulfill the Pre-Requisites?

In order to do a Pilates Certification, it's important to understand the pre-requisites. You may have the passion or drive, however, let's also be realistic; in order to become a teacher, you require a certain number of hours of basic Pilates experience before going forward.
There may be instances where you have achieved your Pilates certification and you want to learn more, such as obtaining a further certification for a particular Pilates equipment. It is important to review all the certifications offered at a particular institute as most likely the pre-requisites of further certifications will be based on successful completion of certain courses at the existing institution.
Have you Connected with Others who have Experienced the Course?

Another important aspect of determining your teacher training course is to read the reviews, acknowledge star-ratings and feedback for the course so that you are comfortable with your investment.
It is also recommended to review testimonials of previous students as good institutes will always have these posted on their websites and other social media platforms.
If you know people who have studied from the Institute, talk to them in order to understand their feedback on the course(s). Their body language and expression at the first instance will determine if the course is worthwhile or not.
The Swiss Pilates Institute (SPI) from Sana Motion Group gives potential students the opportunity to address and cover all the above points. We have also hosted open houses before for our instructors and students to interact and connect with potential students as we always do things from our HEART!
Our Courses are all Internationally Certified and are continuing to become more and more recognized as well as popular around all parts of the world. To find out more about our Courses at SPI, visit our website:
https://sanamotion.com/swisspilates/
Hope the above helps you!
With Love, Patricia