Hi Everyone,
Firstly, Congratulations on taking your Pilates Journey to the next level!
We at The Swiss Pilates Institute (SPI) teach every student with all our heart and want them to excel in their Pilates journey not only for their own benefit, but also for them to benefit others. Studying Pilates is one aspect; another dedication comes after the training as this is the part that gets you experience and deeper knowledge.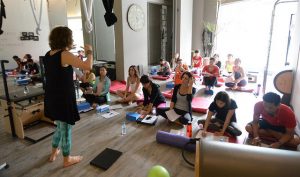 Suggested Exam Preparation:
Pilates exams require time, energy and patience as lots of theoretical as well as practical knowledge needs to be applied and then followed through on an ongoing basis.
Here are a few suggestions:
Review EVERY exercise in the workbook as explained during the training;
Practice all the learning, exercises and poses on yourself first and ask yourself:

Do I understand the purpose of this exercise?
Do I understand how to perform this exercise correctly?
Do I know how to teach this exercise correctly?
Do I know how to further alter the exercise to apply resistance?

Take notes accordingly when you go through your workbook and if you have any doubts or concerns, consult with your Pilates Teacher Trainer and get them clarified at the earliest opportunity before the exam;
If you are unable to perform or practice few exercises either due to a physical limitation or condition, take it as a positive thing. Not ALL Pilates Instructors can perform every exercise or pose, therefore, don't be so hard on yourself. You must alter the exercise accordingly for yourself. This is a good practice when you need to alter exercises to fit your customer's physical level and capabilities;
Apply all the learning and exercises onto other bodies within a timed framework. This is the best time to practice on different types of bodies with people you are comfortable with; such as your friends, family, colleagues…etc. which reduces the initial intimidation that every student goes through;
Further to the above point, practice conducting a Posture analysis on your close ones and prepare a Pilates routine plan for them. Monitor their progress and record results so that you can identify your progress as an instructor as well;
Join group practice sessions with other classmates and practice on each other to tune your knowledge;
Attend Pilates classes consistently and allow yourself at least 4 months to study, observe and practice right after the training course. This is so that a habit can be formed to correctly perform Pilates exercises, poses, skills and techniques when the material is still fresh in the mind.
A full day should include a combination of the following:
Studying your workbook manual;
Observing current Pilates instructors;
Practicing the exercises on yourself;
Practicing on different body types.
The best thing is to commit to a schedule that you can balance for these 4 months so that you don't get too overwhelmed or exhausted;
Be Inspired! Look up to the Instructor(s) that inspire you and observe their techniques and teaching capabilities. Understand how they transition between the different poses, how they smoothly use different Pilates equipment, and how they explain how and what each exercise will do to the body;
Every Pilates Curriculum requires a minimum number of self-study, observation and teaching practice to be completed before a certification is provided. It is important to note down your studying journey. Such logs ensure seriousness and focus as well as fulfillment of the course requirements;
Keep practicing even though you may think you have achieved perfection! It's always best to keep practicing to make every Pilates pose as habitual and natural as possible.
As a Pilates Instructor, you will need to represent what you do. This will boost confidence and readiness to become an experienced Pilates Instructor.
I hope the above tips are useful for you. Don't be afraid; these are just some suggestions to get the best out of your exam, therefore, it's not as demanding as you may think. A Pilates Certification is achieved after completing a Journey! Enjoy the Journey; be Inspired and Inspire others!
The most important thing to acknowledge is that this journey is never ending as even a Master in Pilates needs to consistently practice Pilates and be up-to-date with specific techniques and trends in order to keep up! This is why Pilates is considered 'a way of life' and should feel like a lifestyle/passionate journey rather than just a tick on the box or a money making journey.
As the Co-Founder of the Swiss Pilates Institute (SPI) and as a 2nd Generation Pilates Instructor, I feel proud to see my students progress in their Pilates careers. We educate our students to teach with Precision, Skill and Care as the feeling of practicing and genuinely educating with Full Heart is priceless for any Pilates Instructor. To know more about our curriculum, please visit us on https://sanamotion.com/swisspilates/

With Love & Heart;)
Patricia